History of Mountain Community
The population of Mountain Community is not quite as large as it was a hundred years age and the field in which the farmers all worked are now covered in timber. Some of the people still grow gardens for fresh vegetables, but you do not see acres and acres of corn and cotton as you would have then. Today there are no sawmills or cotton gins, no one operates a thrasher and there are no stores. Before television, and automobiles, this small community was filled with all of these. Families farmed and ran saw mills, gins, and stores. It was a time when friends were important, you did not have to lock your house and you could always count on your neighbors.
Mountain Community was named after J. T. Mountain. The community was established in the late 1860's, about the same time as the first Mountain school. The community is located in the southeastern part of Clay County, in the area of Bethany Road and Highway 49.
Cotton and corn were two of the major crops grown in the community.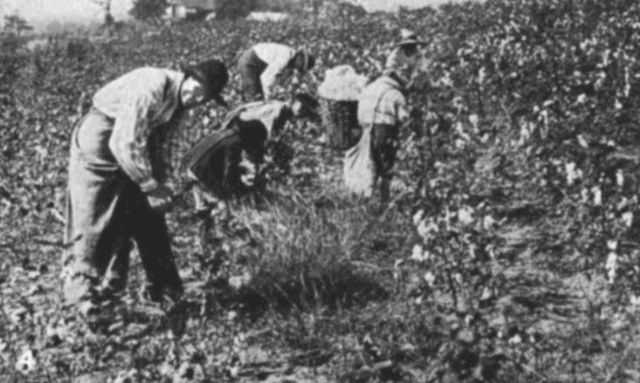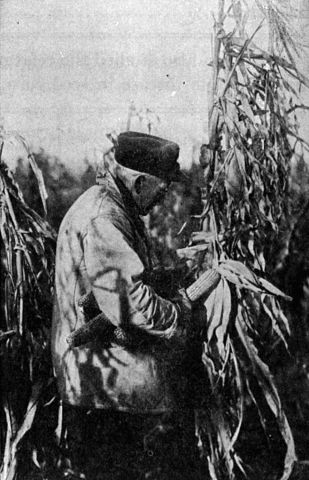 These pictures are of unknown people, but are representative.
There were also Thrashers and Sawmills
Hamp Kennedy and Henry Hunt ran a wheat and oat Thrasher.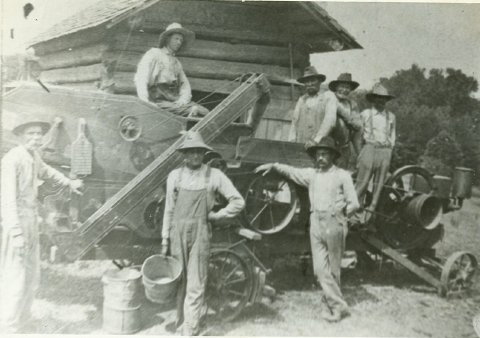 Left to right: Front: Mr. Wilson, John Kennedy and Frank Colley
Back row: Loomis Claybrook, Henry Hunt, Mr. Storks and Bob Claybrook
There was also the Sprayberry and Waldrop Sawmill owned by Crate Waldrop, Arch Sprayberry, Elizabeth Sprayberry , Vermn Sprayberry and John Sprayberry.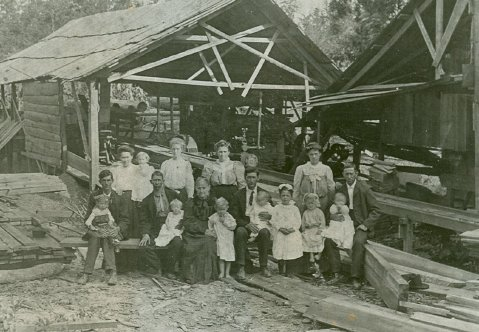 Front row Childern: Velma Waldrop, Audress Sprayberry, Duey Sprayberry, Doris Sprayberry,
Zema Sprayberry, Edna Sprayberry and Dennis Sparyberry
Front row Adults: Crate Waldrop, Arch Sprayberry, Elizabeth Sprayberry , Vermn Sprayberry and John Sprayberry
Back row: Effie and Gertie Waldrop, Carrie Sprayberry, Nonnie Sprayberry and Mary F. Sprayberry
This was a time when doctors made house calls.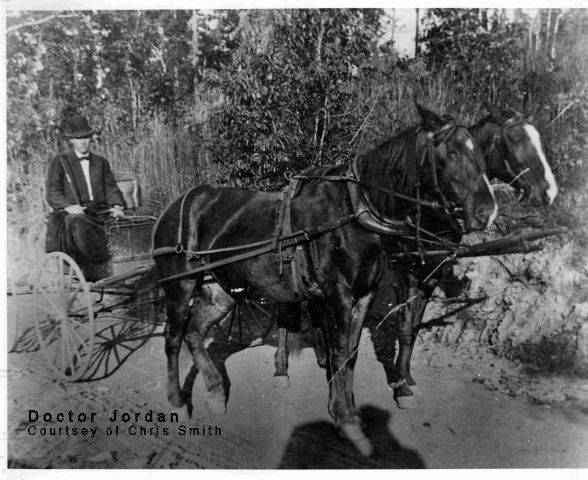 There were store in the community. The most memorable was the Kennedy Family Country store, located within walking distance from Mt. Pisgah church.