A HISTORY OF MOUNTAIN SCHOOL
Mountain school was established in 1868 at a location near the Clay and Tallapoosa county line. The first building consisted of a single room with a stick and dirt chimney.* The building served as a school during the day and a shelter for sheep and goats at night. From this it received the name "Old Sheep House". The first Mountain School may have looked something like this.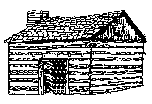 The first Mountain School may have looked something like this.
After a term or two the building was abandoned for a better one located on the farm of J. L. Hood, about one-half mile north of the original site. The building at the second location was about twenty feet square and was made of logs. The walls contained cracks large enough for the pupils to crawl through. Around the walls were puncheon seats** . At one side stood a crude writing desk which held the books and other supplies for the pupils. The pupils would use this desk whenever they had to write.
After fifteen years the school was moved to its third site, about a quarter of a mile to the east, to the farm of A. K. Kennedy. There it used a plank building about 20 by 30 feet, with a rock chimney at one end. This building was used until school districts were created and the school was moved again.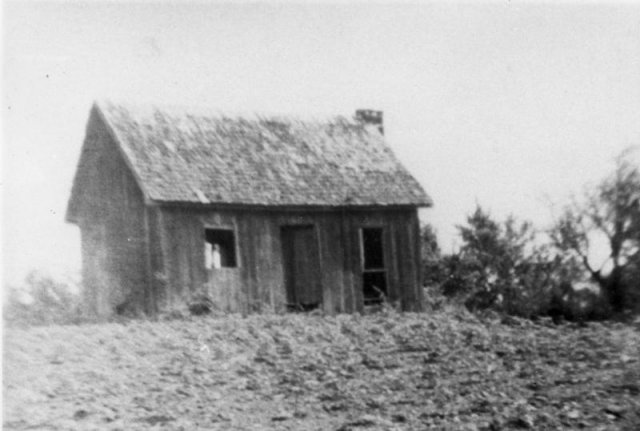 This is believed to be the third building used as Mountain School
The next building, the forth location, was a little larger and by the beginning of the 1928-9 four rooms had been added. On July 18, 1928, the Board approved M.G. Satterfield and J.W. Teel as Superintendents.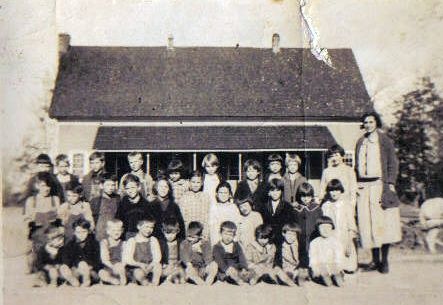 This is the forth building for Mountain School
In May of 1935, a new rock building was built at a cost of $5,000. This building was located at the intersection of Bethany Road and Highway 49, just a few yards to the left of the present site of the Mountain Volunteer Fire station. This building served as Mountain School until it closed in 1953. The stone building was later sold to A.J. Browning for $1,030 and some years later the building was torn down. The building was very similar to the Little Heflin School which is located on Idaho Road.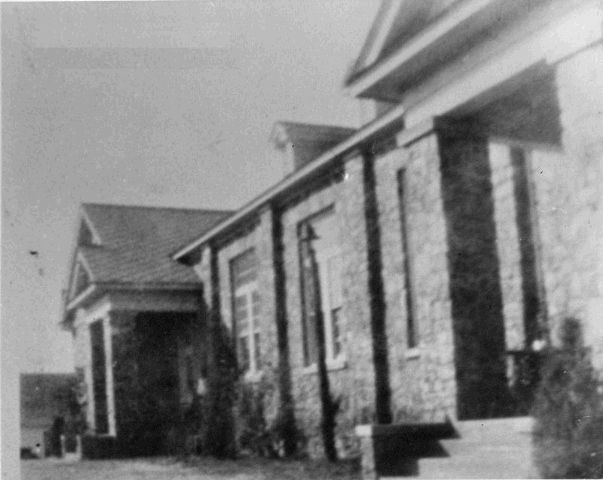 This is the school that was built in 1935
Some of the people who taught at Mountain school include:
Charles Smith, A.P. Hunter, J. T. Mountain, Arnold Cotney, Joe Hood, Imogene Disheroom Lackey, Emma Barnes, Samantha Hood, Liza McCall, Lagrande Mitchell, Jack Mathews, Jim McCann, E.P. Hood, Bud Evans, Henry Blankenship, C. Pearce, John Steele, Arthur Mann, Maude Waites, Patty Floyd, Carrie Thompson, Sallie Smith, Doc Hanson, Grady Tidwell, H.C. Winslett, Grady Burgess, Lela Leftwich, Walker Hodge, Talmadge Hanson, Houston Wisley, Vann King, Mrs. Vann King, Mary Hann, Cam Walls, Will Anderson, Alex Pruet, A.D. Quarles, Grady Morris, Harvey Jenkins, Irene Davis, Arcadia Yates, Imogene Price, Lillian McDaniel, Lessie Bishop, Mattie Walker Shepherd, Iva Caldwell, R. W. Hanson, Lois Sailors.
Teachers for adult sessions include:
Aubrey Ward, Imogene Price, John Teel, M.G. Satterfield, Vera Thompson, J. C. Blair, Sadie B. Wingard, Gertie Perry.
In the early years, teachers taught for as little as seven and one-half cents per pupil.
Much of his information was originally compiled by Leamon Smith, a lifetime resident of Mountain community. Quoted sources included the Clay County School district, and a 1929 article from the Ashland Progress newspaper. Other information was furnished by Chris Smith.
* "Stick and dirt" was the generic name for a type of chimney created by building a stick framework then filling the it with mud. To get the mud to stay together hay or grass was sometimes mixed with it. The mix could then be formed into rolls which could be inserted into the frame. Frequently, additional mud had to be added to the outside due to weathering. The inside of the fireplace was covered with clay then heated to make it hard or sometimes stones were sometimes used as a lining.
** Puncheon seats were benches made out of a log split in the middle and smoothed off with an ax or a plane.